3.16
Precast Concrete
Precast concrete is any piece of concrete which is cast in a mould or location which is not its final intended location. For the most part this is manufactured off-site in the factory of a specialist precast producer.
Precast concrete differs in some important aspects from in-situ concrete construction:
Collaboration is required between project designer and precast producer (preferably at an early stage) as the producer usually is responsible for structural design of the individual units (e.g. loads, spans, opes, fire resistance, durability etc.). The producer usually chooses the concrete mix to meet these needs, as well as early handling requirements. The project designer should specify / agree with the precast producer the type of surface finish that is required.
Collaboration is also required with the builder to ensure dimensions and levels, erection sequences, building stability during construction, requirements for temporary supports, craneage, storage areas, etc. are all known and agreed.
Many precast elements arrive on site as finished units ; however, some precast elements may require in-situ finishing of joints, overlay screeds, etc.
Designer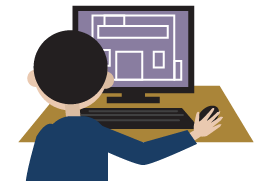 Initial sizing of members
Communication of general layouts and loading scenarios and other technical requirements to precast producer
Inclusion of precast details on general drawings where required
Consideration of overall structural integrity of structure
Consideration of structural connections
Consideration / inclusion of aesthetic / architectural details in technical specifications
Communication with precast producer on the inspection regime
Awareness of temporary stability requirements
Approval of design
Builder
Awareness of temporary stability requirements
Knowledge of who has responsibility for erection of precast elements
Knowledge of who has responsibility for temporary works
Responsibility for back-propping?
Lay down areas / suitable access and egress
Craneage requirements
Precast specific tolerances, including minimum bearings
Responsibility for design and installation of anchors / fixings?
Agreed procedures for openings for services and other site alterations
Precast Producer
Knowledge of Product harmonized standards (hENs) relevant to precast elements
Awareness of CE marking requirements for products produced to harmonised standards
Obtain all relevant design information from designer
Carry out element design, where applicable
Communications on alterations to prescribed design
Product quality control procedures
Pre-installation / site check arrangements
Pre-delivery procedures for compliance of units
Erection arrangements: whose responsibility is this?; are there specific procedures required?
Further Guidance
Main Standards – Reference
I.S. EN 13369
Other Guidance Documents
Planning and design handbook on precast concrete structures ; Bulletin 74, CEB / FIP