2.1
I.S. EN 1990 Basis of structural design (Eurocode)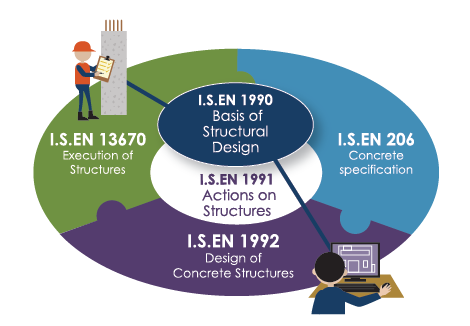 Scope
I.S. EN 1990 establishes, for all the structural Eurocodes, the Principles and Requirements for safety, serviceability and durability of structures.
I.S. EN 1990 provides the principles and rules for the design of whole structures, their components and construction products of both traditional and innovative nature.
Use
I.S. EN 1990 is intended to be used in conjunction with other EN design codes e.g. I.S. EN 1991 & I.S. EN 1992. It also provides the basis for the structural design and verification of buildings and civil engineering works and gives guidelines for related aspects of structural reliability
I.S. EN 1990 is applicable to the structural design for the execution stage and for temporary or auxiliary structures.
I.S. EN 1990 is based on the use of Limit State principles; ultimate limit states and serviceability limit states.
Assumptions
A construction work or product designed according to the principles and rules of I.S. EN 1990 is deemed to meet the fundamental requirements, provided the assumptions of I.S. EN 1990 to I.S. EN 1999 are satisfied.
These main assumptions are:
Choice of structural system and design of structure is made by qualified and experienced personnel
Execution is undertaken by personnel having appropriate skill and experience
Adequate supervision and quality control is provided during execution
The construction materials and products are used as specified and in accordance with standards or product specifications
The structure will be adequately maintained
The structure will be used in accordance with design assumptions
Fundamental requirements
The structure and structural members should be designed, executed and maintained in such a way that they meet the following principal fundamental requirements:
Safety
Serviceability
Robustness
Fire requirement
Reliability management
I.S. EN 1990 is the first operational code to recognise the possibility of reliability differentiation and provides guidance for obtaining different levels of reliability.
Consequence classes are defined in Annex B I.S. EN 1990 (see also Annex A I.S. EN 1991-1-7)
Design working life
I.S. EN 1990 provides indicative design working lives for different types of structures (refer Table 2.1 in section 2.3):
25 years for temporary structures and farm buildings
50 years typically, for many buildings
100 years for monumental structures
(Note: Irish Building Regulations may have different requirements. TII / NRA require bridges to have a 120 year design life)
Note: Use the latest version of the standard, along with the accompanying National Annex, including any Addenda or Corrigenda updates for either, issued by NSAI. Irish Standards are available at www.NSAI.ie/standards.